Choosing the Right Reverse Mortgage
One of the most challenging aspects of getting a Home Equity Conversion Mortgage (HECM), also known as a reverse mortgage, is identifying which product configuration and interest rate type best meets your needs. What many borrowers may not realize is that there are over a dozen different ways to configure a reverse mortgage. Depending on the financial goals the borrower has, the loan can be setup with different disbursement options, interest rate types, and closing costs.
If you are a borrower wishing to access a portion of the equity in your home, you may want to request a quote from a lender to review interest rates, closing costs, and fees, and most importantly—how much money you can access from your home. However, in order to provide you with the best product to suit your situation, a licensed loan advisor will need to get a better understanding of how you would like to configure your loan.
The scenarios listed below describe specific needs with possible HECM configurations that might be best suited to meet the borrower's financial goals and needs.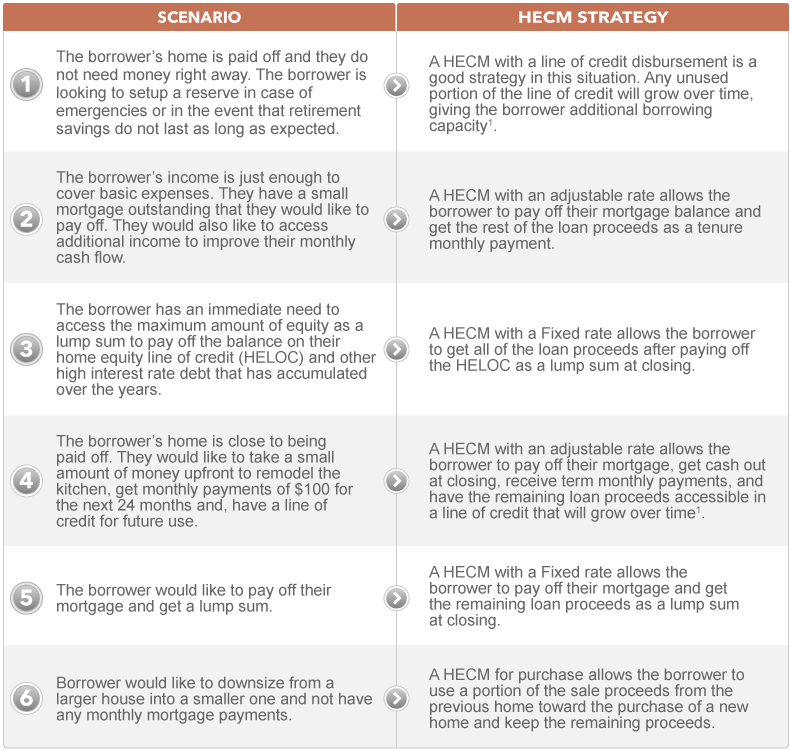 To learn more about how a reverse mortgage may be able to help you achieve your financial goals, we are happy to provide you with a Free No-Obligation Eligibility Assessment. A licensed loan advisor will:
Determine if you meet the basic eligibility requirements
Get a better understanding of your financial goals, and
Recommend the best loan product for your needs.
For more information, call (800) 976-6211.
Important Disclosures:
1 The reverse mortgage loan balance grows at the same rate as the available line of credit. Line of credit growth occurs and is only a benefit when a portion of the line of credit is not used. The unused line of credit grows over time and more funds become available during the life of the loan.