What to do When Your Reverse Mortgage Loan is Due
More seniors are turning to reverse mortgages to help them through their retirement years. If you're considering a reverse mortgage, you may have questions about the end of the loan process, and what occurs when it's time for the loan to be repaid.  Fortunately, the National Reverse Mortgage Lenders Association (NRMLA) created a five page guide that walks borrowers and their families through the process. It's called "What Do I Do When My Loan is Due?"
NRMLA is a national agency that advocates commitment to the highest ethical standards for the reverse mortgage industry. NRMLA strives to ensure that America's senior population receives accurate information, so that you can borrow with confidence when you work with a NRMLA member.
Click the image below to download your free copy of the guide today!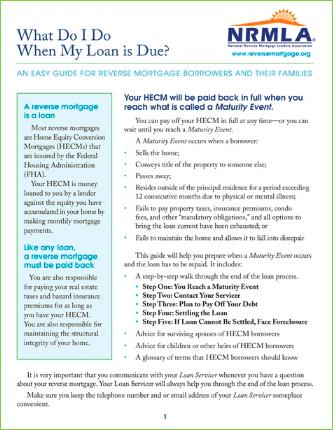 If you'd like to learn more about reverse mortgages, please use our Reverse Mortgage Calculator or call 800-218-1415.
1 What Do I Do When My Loan is Due? – reversemortgage.org, by NRMLA, 11/22/16, http://www.reversemortgage.org/Repayment.
Author:  Meredith Manz