Helpful Information About Your Reverse Mortgage After Closing
If you recently closed on your reverse mortgage, you and your heirs may find it helpful to read the new guide published by the National Reverse Mortgage Lenders Association (NRMLA). It's called "What You Need to Know About Your HECM After Closing". The free guide provides useful information about the rules and guidelines, the important role of the loan servicer, and timelines that apply to the loan.1
NRMLA is a national agency that advocates commitment to the highest ethical standards for the reverse mortgage industry. NRMLA strives to ensure that America's senior population receives accurate information, so that you can borrow with confidence when you work with a NRMLA member.
Click the image below to download your free copy of the guide today!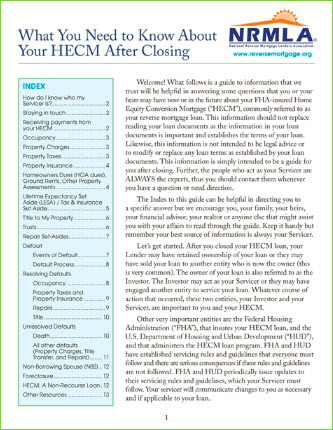 If you'd like to learn more about how a reverse mortgage could help you, please use our Reverse Mortgage Calculator or call 800-218-1415.
1 What You Need to Know About Your HECM After Closing – reversemortgage.org, by NRMLA, 11/22/16, http://www.reversemortgage.org/AfterClosing.
Author:  Meredith Manz