A reverse mortgage is a home loan made by a mortgage lender to a homeowner using the home as security or collateral. Which is considerably different than with a traditional mortgage, where the homeowner uses their income to pay down the debt over time. However, with a reverse mortgage, the loan amount (loan balance) grows over time because the homeowner is not making monthly mortgage payments.
A reverse mortgage loan typically does not require repayment for as long as the borrower(s) continues to live in the home as the primary residence, pays home insurance and property tax, and maintains the home in accordance with the Federal Housing Administration (FHA) requirements, or until the last homeowner has passed away or has moved out of the property.
The amount of equity you can access with a reverse mortgage is determined by the age of the youngest borrower, current interest rates, and the value of the home in question. Please note that you may need to set aside additional funds from the loan proceeds to pay for taxes and insurance.
Example of How a Reverse Mortgage Works
John and Anne are a retired couple, aged 72 and 69, who want to stay in their home, but need to boost their monthly income to pay living expenses. They would like to remodel their kitchen. They have heard about reverse mortgage loans but didn't know the details. They decide to contact a reverse mortgage loan advisor to discuss their current needs and future goals if they could gain access to a portion of the funds stored in their home's equity.
An FHA appraiser determines that their home's value is $400,000. They currently owe $35,000 on their mortgage. Below is an illustration of how John and Anne spend their loan proceeds.*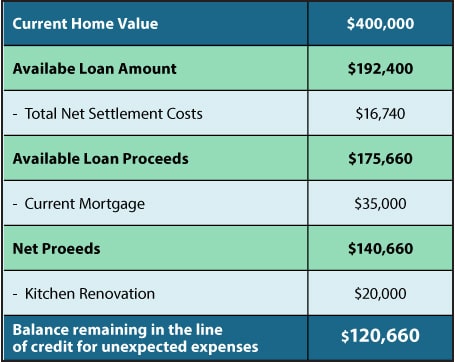 This example is based on Anne, the youngest borrower who is 69 years old, a variable rate HECM loan with an initial interest rate of 2.495% (which consists of an adjustable-rate of 0.12% and a margin of 2.375%).
It is based on an appraised value of $400,000, origination charges of $6,000, a mortgage insurance premium of $8,000, other settlement costs of $2,740, and a mortgage payoff of $35,000; amortized over 372 months, with total finance charges of $16,740 and an annual percentage rate of 4.87%. Interest rates may vary and the stated rate may change or not be available at the time of loan commitment.

*The funds available to the borrower may be restricted for the first 12 months after loan closing, due to HECM reverse mortgage requirements.  In addition, the borrower may need to set aside additional funds from the loan proceeds to pay for taxes and insurance. Information accurate as of 03/28/2019.
Steps In The Loan Process
Many steps are involved prior to a new loan being funded and the homeowner(s) to begin receiving funds. We have provided you with a quick visual example of what you may anticipate when beginning the process of a Home Equity Conversion Mortgage.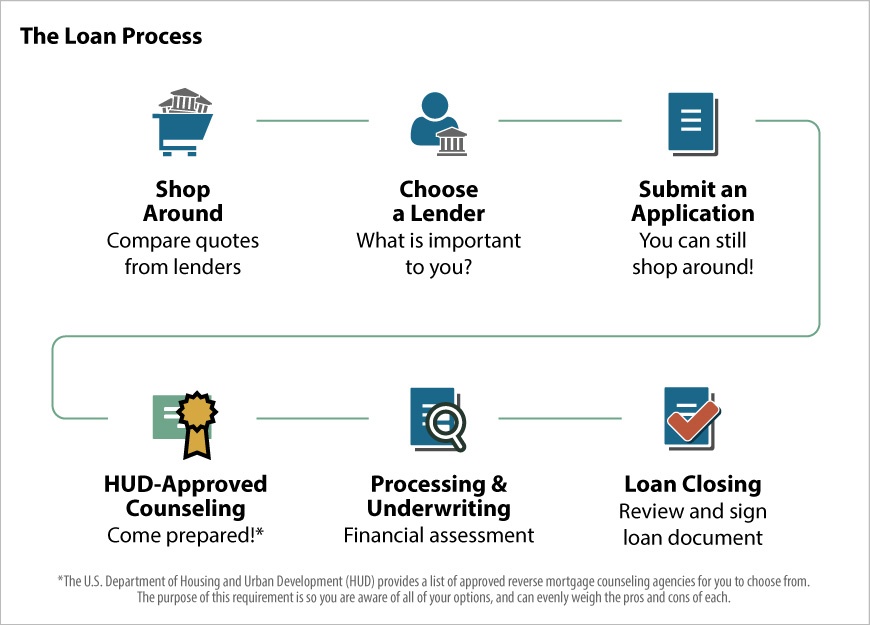 Getting Started
Next steps: Take a few moments to begin estimating your eligibility using our free reverse mortgage calculator. Using basic information about your home and property, we can assist with helping you better understand if a reverse mortgage may work for you. Get started