HUD Announces Big Reverse Mortgage Changes
On Tuesday, August 29th 2017, the US Department of Housing and Urban Development (HUD) announced some changes that will have a large impact on senior homeowners interested in tapping into the equity in their homes through the use of a Home Equity Conversion Mortgage (HECM), also known as a reverse mortgage.
The Federal Housing Administration (FHA)1 insures HECM loans to protect both borrowers and lenders. With a HECM reverse mortgage, borrowers are able to pay off any existing mortgage and borrow a portion of the equity in their home with no requirement to make monthly mortgage payments2. For seniors, who are often living on a fixed income, this benefit allows them to access their home equity without selling the home.
Another benefit associated with FHA insurance is that the loan is non-recourse3. This means that the borrower and their heirs will never owe more on the loan than what the home is worth. This benefit came into play during the market crash of 2008, when home values took a large drop. Many loans that became due during that time period were not secured by properties with sufficient value to repay the balance of the loan. So, FHA stepped in and covered the difference.
Since 2008, the FHA Mutual Mortgage Insurance Fund has operated with a deficit, which would be expected after the housing market crash. However, the fund has not recovered as anticipated following the crash, according to the 2016 FHA Annual Report to Congress. In 2016, an independent actuarial report valued the HECM fund at negative $7.7 billion overall4. Additionally, the economic net worth of each HECM portfolio by vintage for the past 8 years is projected to continue adding to the deficit (see graph below).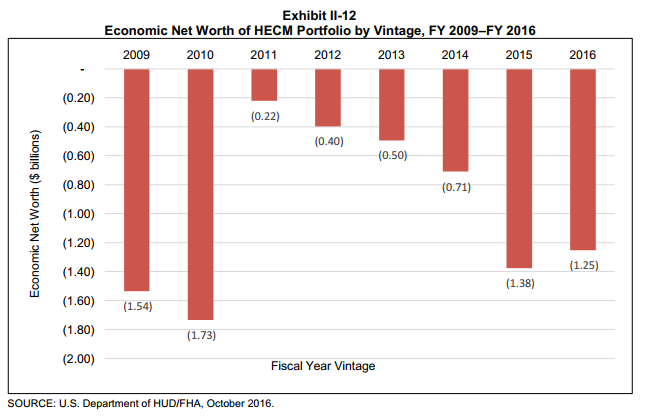 With these concerning trends, it has become clear that reverse mortgage changes are necessary in order to keep the HECM loan as a viable offering to senior homeowners in the coming years.
So what exactly has changed?
HUD's announcement effectively decreases the amount of equity that seniors are able to borrow against their homes due to a change in the Principal Limit Factor (PLF) tables. This means that more equity will be required to remain sitting in the home as a buffer for contingencies and as a protection against market volatilities that would affect expenses and sales prices for defaulted HECM loans.
Another change affecting borrowers comes in the form of upfront mortgage insurance premium costs. For some borrowers, this will result in an increase in loan costs and for some it will result in savings. Currently, borrowers who wish to access more than 60% of their initial proceeds within the first year (such as to pay off a large mortgage balance), must pay an upfront mortgage insurance premium of 2.5%. With the new guidelines, those borrowers will only have to pay 2.0%. On the flip side, borrowers who do not need to borrow more than 60% of their maximum claim amount within the first year will also be required to pay 2.0% of the maximum claim amount. Prior to October 2nd, 2017 those borrowers would have only been required to pay 0.5%.
Not Too late!
There is still time for borrowers to lock-in their HECM loan using the previous guidelines, but HUD has given very little notice between their announcement on Tuesday August 29th and the October 2nd deadline when the reverse mortgage changes take effect. We encourage homeowners who have been considering the loan but who have not yet made a decision to at least initiate the application process in order to lock in their loan. In order to qualify for the current lending guidelines, borrowers must complete their mandatory HECM counseling session, and submit a completed loan application, in order to have their case number ordered by the October 2nd deadline when the new rules go into effect.
If you have any questions, or would like to learn more about how these reverse mortgage changes may affect your borrowing capacity or overall eligibility for a HECM loan, call (866) 270-1360. A licensed reverse mortgage lender can help you understand your options, provide you with a side by side comparison of different HECM products, and provide an estimate of current rates and fees.
Important Disclosures:
1 Federal Housing Administration (FHA) mortgage insurance premiums (MIP) will accrue on your loan balance. You will be charged an initial MIP at closing. The initial MIP will be .5% or 2.5%, depending on your disbursements. Over the life of the loan, you will be charged an annual MIP that equals 1.25% of the outstanding mortgage balance. Effective 10/02/2017: Initial MIP will be 2.0% on all loans with an annual MIP that equals .5% of the outstanding mortgage balance.
2 You must live in the home as your primary residence, continue to pay required property taxes, homeowners insurance, and maintain the home according to FHA requirements. Failure to meet these requirements can trigger a loan default that may result in foreclosure.
3 With a non-recourse loan, lenders can only look to the value of the home for repayment; no other assets may be attached if the loan balance grows beyond the mortgaged home value.  You or your heirs will not be required to pay more than the value of your home at the time the loan is repaid.
4 https://portal.hud.gov/hudportal/documents/huddoc?id=2016fhaannualreport1.pdf